Mae Mah and the rest of her herd have continued to live freely in Nam Pouy National Protected Area in Laos.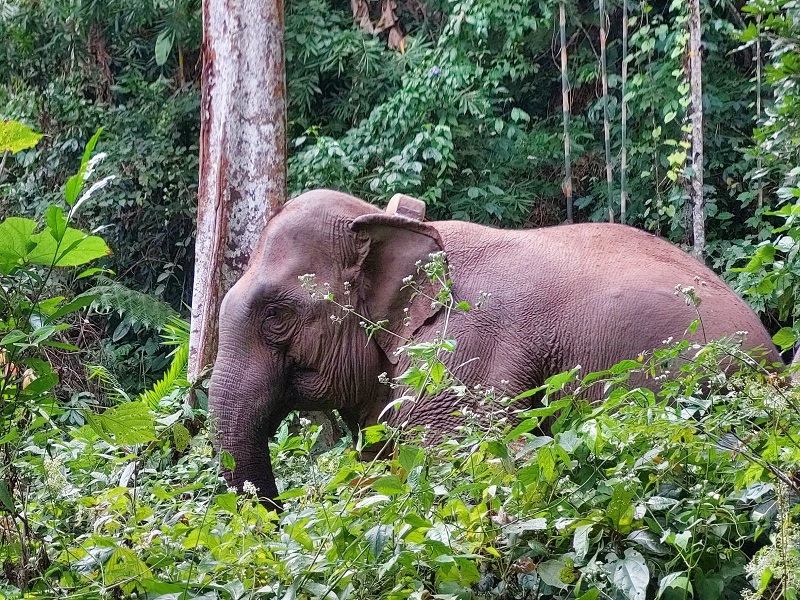 Beautiful Mae Mah with her GPS collar in the forest
Mae Mah seems to have really transitioned into being a wild elephant and can be quite intimidating to approach at times! The tracking team consider this herd, especially Mae Mah and Dor Khoun Meuang like wild elephants now and are much more cautious when approaching.
Mae Mah spent two weeks in January with a wild male in the release area. This large wild bull spent time with Mae Mah at approximately the same time, two years ago. Although we are hopeful this encounter could lead to a pregnancy there are no signs of it just yet. We are not getting our hopes up as unfortunately Mae Mah has never gotten pregnant before and is, by elephant standards, getting a little old to be a first-time mother. It is still wonderful that she can interact with this wild bull.
2023 will be a big year for Mae Mah! Since she has taken so well to her new life in the forest, the team at the Elephant Conservation Center (ECC) has approached the government about changing the legal status of her and her group to be legally recognised as wild elephants. The government seems open to the idea, and it will be a first for Laos if it happens. It will, however, not be a decision taken lightly by the government or by the ECC as we also need the full support of the local community who use a lot of the same forest area as the reintroduced elephants.